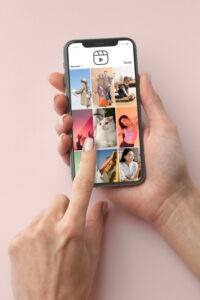 Fancy a change of scene from Facebook marketing, but not sure where to start? Here's an Instagram marketing cheat sheet to get you going.
1: Optimize your profile – Attract more followers, engage your audience and ultimately grow your brand by doing the following:
Using a high-quality, recognizable profile picture that represents your brand. It could be your company logo or your headshot.
Using a clear and descriptive username that is easy to remember and reflects your brand or business. Avoid using complicated usernames that are hard to spell or remember.
Writing a compelling bio to quickly communicate who you are and what you offer. Use keywords that your target audience might search for and include a call-to-action to encourage engagement.
Including a clickable link to your website in your bio, so visitors can easily find and explore your website.
2: Use a consistent brand voice – Choose a color scheme and aesthetic that represents your brand and stick to it in all your posts. Consistently post high-quality content that is relevant to your brand and target audience. Use a mix of images, videos, and captions to tell your brand's story and engage your followers.
3: Post consistently – Aim to post at least once a day, but no more than three times a day, to keep your followers engaged.
4: Use hashtags – Use relevant hashtags to make your content discoverable by people interested in your niche or industry. Research popular hashtags in your niche and include them in your posts.
5: Use Instagram Stories – Stories are a great way to show behind-the-scenes content and give your followers a glimpse into your brand's personality. If you're new to the platform, Instagram Stories is a feature within the Instagram app that allows you to share photos and videos that disappear after 24 hours. They appear at the top of the Instagram feed and are represented by circular profile pictures.
You can share multiple photos or videos in a single story, and you can also add text, stickers, filters, music, and other creative elements to your content. Instagram Stories also include interactive features, such as polls, questions, and quizzes, which allow users to engage with their followers and encourage user participation.
You might think of Instagram Stories as a more casual and spontaneous way to share content compared to traditional Instagram posts. You can showcase your daily activities, share behind-the-scenes moments, connect with your followers on a more personal level and promote your products and services.
6: Use Instagram Reels – Reels are short-form videos that are up to 60 seconds long and can be used to showcase your brand's products and services in a fun and creative way.
These videos can be edited with various creative tools, such as music, filters, and special effects, to make them more engaging and visually appealing.
Here's a great primer on how to use Instagram Reels for marketing, along with examples: https://www.wordstream.com/blog/ws/2021/06/22/instagram-reels-ideas-for-businesses
7: Collaborate with influencers – Partner with influencers who have a similar audience to yours to expand your reach.
First, look for influencers who have a following that aligns with your target market. You can use tools like Influencer.co or HypeAuditor to find influencers in your niche. You've got to choose influencers who are in contact with your target audience, and your collaboration needs to add value to the influencer's audience or this won't work.
Next, reach out to the influencers. You can DM them directly on Instagram or find their email addresses on their profile. Be sure to introduce yourself and your brand, explain why you think a collaboration would be beneficial, and offer to send them your product for review.
You can offer the influencer a commission on sales or a flat fee for their services. Make sure to clearly define the terms of the collaboration, including the timeline and deliverables.
You can provide the influencer with content that they can use to promote your product, such as product photos or videos. You can also provide guidance on how you want the product to be featured and any messaging you want the influencer to use.
Finally, keep track of the engagement and sales generated by the collaboration. This will help you determine the effectiveness of the partnership and make adjustments for future collaborations.
8: Run Instagram contests – Contests are a great way to engage your audience and increase your following.
There are various types of Instagram contests such as Like-to-Win, Comment-to-Win, Hashtag Contests, Tag-a-Friend, and UGC contests. Choose the one that aligns with your goals.
Select a prize that is relevant to your brand and appeals to your target audience. The prize can be your product, service, or a gift card. Do not give something generic as a prize (such as an iPhone) or you'll end up getting a huge response of people who have no interest in your products.
Use eye-catching graphics, write an engaging caption, and include all the relevant details such as rules, eligibility criteria, and the deadline.
Promote your contest on all your social media platforms and encourage your followers to participate. Use relevant hashtags and collaborate with influencers to reach a wider audience.
Keep track of all the entries, select a winner and announce it on your Instagram page. Remember to follow up with the winner to claim their prize.
9: Use Instagram Live – Host Q&A sessions, product launches, and other events to keep your audience engaged.
Before going live, plan out the topics you want to discuss and any visuals or props you might need.
Build excitement for your live session by promoting it on your Instagram profile, website, and other social media channels. Use hashtags and mention influencers or partners who might be interested in your content.
Encourage your viewers to ask questions, leave comments, and engage with your content during your live session. Respond to comments and questions in real-time to build a sense of community and connection.
After your live session, save the video and share it on other social media channels or your website. You can also edit the content into shorter clips or highlights to share on Instagram or other platforms.
Use Instagram Insights to track metrics like viewer count, engagement, and retention rate. Use this data to refine your approach for future live sessions and optimize your marketing strategy.
10: Use user-generated content – User-generated content (UGC) can be a powerful tool for Instagram marketing because it allows you to showcase your brand through the eyes of your customers.
Ask your followers to tag you in their posts by including your handle or a specific hashtag in their captions. This will help you to easily find UGC related to your brand.
Keep an eye on the posts that mention your brand and curate the ones that align with your brand's message and aesthetic. Reposting user-generated content on your brand's Instagram page can help you increase your brand's reach.
Always give credit to the original creator of the UGC by tagging them in the post and mentioning them in the caption. This will not only give credit to the creator but also encourage other users to create and share their own content.
Encourage users to create and share their own content by running UGC contests and campaigns. For example, ask your followers to create content related to a specific theme or challenge and offer a prize to the best submission.
Use UGC in your Instagram ads to increase their authenticity and make them more relatable to your target audience.
Last Thoughts – Instagram's large user base of over one billion monthly active users is ready to see your products and even buy right through Instagrams shopping features. This highly visual platform has one of the highest engagement rates of any social media platform, with users spending an average of 28 minutes per day on the app. And it's the leading platform for influencer marketing, making it an excellent place for you to promote your products.