Welcoming Erik Emanuelli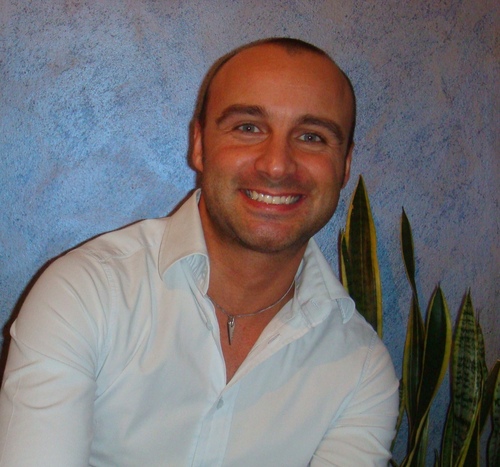 For this week's article, on starting an email marketing campaign, I'm delighted to welcome Erik Emanuelli as my guest author.
Erik is a professional blogger and social media marketer. He loves to skydive and work on http://nopassiveincome.com (but not at the same time)!
Erik and I have worked together on other ventures, and his articles are always informative and enjoyable.
He's bang up-to-date with current Internet Marketing trends, so – as email marketing is an important part of the training I'm following – I'm really pleased to hear his thoughts on the topic.
Particularly this.
Over to you, Erik…..
4 Reasons Why Email Marketing Isn't Dead & 4 Tips For Starting a Campaign
And you thought email marketing was dead?
A new study suggests that companies will spend more of their budgets and time on email marketing initiatives this year. Areas that have garnered particular interest from businesses include mobile open rates, content and user experience and strategic development.
The study revealed that email marketing is a top priority for United States companies in 2016. Eighty-six percent will increase their email marketing budgets, while 71 percent will spend more time on email marketing production. Business have fallen in love with email marketing again.
Contrary to popular belief, email marketing is alive and well. It hasn't faded into obscurity and it hasn't been given its last rites. Email marketing is a whopping 20 years old, but it's still young.
Do you need more proof? According to a report from Econsultancy, marketers describe email marketing as "excellent" or "good" when it comes to returns on investment – studies have shown there's a 4,300 percent ROI for companies that employ email marketing campaigns. The marketing website also found that businesses using email marketing are under budget.
You'd think that email marketing would go the way of dialup and AOL's iconic "You've Got Mail." However, due to a variety of factors, email marketing is thriving in today's environment.
Email Marketing Isn't Dead
Here are four reasons why email marketing isn't dead, or even slowing down its momentum:
1. We Still Love Our Email
In 2015, the total number of emails sent and received globally were more than 205 billion. We receive dozens of emails per day, and a lot of it is just junk. But you know what? We check our emails every single day, sometimes multiple times per day. In fact, 92 percent of online adults use email, with 61 percent using it on an average day.
When you dive deeper into email statistics, you find a treasure trove of data for marketers:
44 percent of recipients bought at least one item last year based on a promotional email.
Email subscribers are three times more likely to share your content on social media than visitors from other websites.
You are six times more likely to get a click-through from an email marketing campaign than you are from a single tweet.
A third of clicks within an email take place on a mobile device.
Half of email subscribers spend as much as one hour perusing marketing emails each week.
These are all valuable statistics that prove email is very popular and lucrative for brands.
2. Email Generates ROI
As previously noted, email marketing generates a tremendous return on investment. It was reported in 2015 that a fifth of companies discovered an ROI of $76, which was three times more than the previous year. Essentially, for each $1 spent, email marketing creates $38 in ROI.
An Econsultancy survey found that email marketing was ranked as the best channel when dealing with ROI. More than two-thirds (68 percent) rated it as good or excellent, which represented a three percent jump.
Here is a chart from the website's study: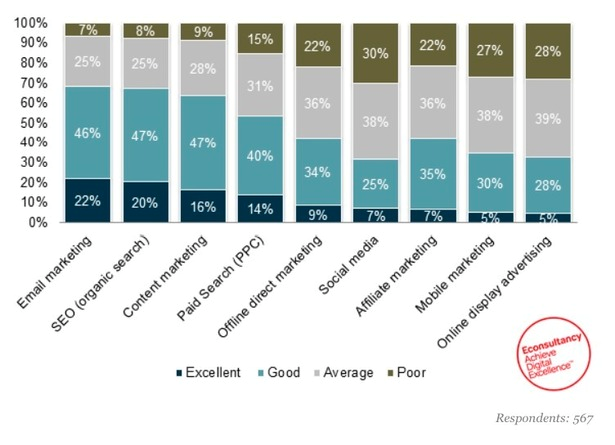 3. Businesses Seeing Sales With Email
On average, U.S. companies have attributed one-quarter of their total sales to their email marketing initiatives. Why do sales go up immensely? Well, it may have to do with the fact that consumers who purchase products that were marketed through email spend roughly 138 percent more than individuals who do not receive email offers.
These are big numbers for businesses, especially in a marketplace where consumers are a lot more wary about spending their dollars. Simply put: email drives sales.
4. Marketers Have New Tactics & Channels
Due to the advancements made in email marketing technology, marketers are coming up with an entire host of brand new tactics and channels to market products and services. Some of the tactics consist of producing compelling and relevant content, personalizing emails, using analytics and mailing tools, integrating email with other tactics (social media or mobile marketing).
Now that you have been given the reasons why email marketing is flourishing, you may want to launch your own email marketing campaign.
Launching An Email Marketing Campaign
Here are four ways to start today:
1. Launch a Strategy
You should never just launch an email marketing campaign without a strategy, without precise knowledge ahead of time. Prior to going all in, you'll have to determine your goals, find out who your target audience is, how your content will be created and, most importantly, what is your budget. These are important factors to consider when constructing your email marketing.
2. Start Working on Your List
First off, never buy a list. This just spells trouble. It may not be updated, it may be spammed, it may have been built without the consent of its recipients. Suffice to say, just ignore buying lists.
With that being said, there are plenty of ways to build your own list of subscribers organically. Here are a few ways to do it:
Install an opt-in form on each page of your website and social media profile.
Start and maintain a promotion on a partner website or email newsletter.
Encourage others to act as your brand advocate (this comes with good content).
3. Provide Something of Value
In order to build a large and effective list, you should offer your subscribers something of value, otherwise known as a value proposition. This could consist of offering a free ebook, sending out weekly newsletters, providing monthly discounts and promotions and even spotlighting your customers who regularly engage with your brand.
4. Make Your Emails Mobile-Friendly
Lastly, since about half of our emails are checked on a smartphone or tablet, you have to ensure that your email messages are optimized for mobile devices. This could include limiting the subject line characters to under 30, using limited imagery, writing a clear call-to-action (CTA), having enough clicking room and getting straight to the point.
As Computer Dealer News writes: "If it is difficult to view or navigate on their device, they may delete the message and potentially unsubscribe from your list."
What Do YOU Think?
Erik's article just confirms what I have read elsewhere. And certainly I check my emails several times a day, and have made purchases based on emails – in all sectors, not just Internet Marketing.
So I'm really pleased to see that Erik has researched and presented facts and figures confirming that starting an emailing marketing campaign is still a sound decision.
What do you think? Please share your comments on your own email marketing strategy.